Roko is an evolved Star Monster in the Earth Family.
Description
He's got the smallest tail and biggest body. He has improved in all the games.
Origin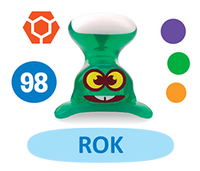 Star Value
Roko has a star value of 7.
Exploration: 6
Balance: 5
Power: 6
Evolutionary Line
Ad blocker interference detected!
Wikia is a free-to-use site that makes money from advertising. We have a modified experience for viewers using ad blockers

Wikia is not accessible if you've made further modifications. Remove the custom ad blocker rule(s) and the page will load as expected.