Essential Star Monsters are the white base forms of Star Monsters once they take on the appearance of their surroundings. Three new colours appear from each Star Monster's essential form. 
Each Star Monster, excluding fusion, shadow and evolved Star Monsters, has an essential figure and is the only colour that every figure shares. 
Other Merchandise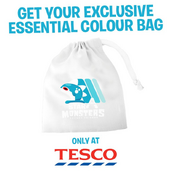 Essential Colour Bag
On March 2nd, 2016, Star Monsters' twitter announced there was a limited stock of essential colour bags being sold at Tesco. 
It is unknown and has not been stated if these are out of stock and if anymore will be coming to stores in the future.
Gallery